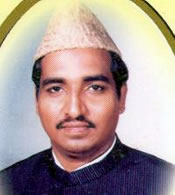 Khursheed Ahmed Biography
Al-haaj Khursheed Ahmad was a renowned Naat Khawan. He started to recite Naat Khawani when he was only few years old, until his death recited thousands of Naats. He used to proficiently recite Naats not only in Urdu, but also in other languages such as Bengali.
The melody of his voice and the unique way of reciting attracted people from all over the world toward him making him the famous Naat Khawan in the World.
Khursheed Ahmed was born on January 1, 1956 in Rahim Yar Khan. He acquired his basic schooling from Abbasi Primary School and passed Matriculation examination from Colony High School. Then he did Diploma in Commerce from Govt. Commercial Institute.
In 1973, He moved to Karachi and joined Radio Pakistan as a typist. The same year he participated in a Naat competition in Dow Medical College and got First position. Later he was introduced to Radio Pakistan as Naat Khuwan. In 1978, Pakistan Television held the Naat competition for the first time in its history. First the competition was held at Sindh level and then at Pakistan level, Khursheed Ahmad got first position in both.
The Naat "Yeh Sab Tumhara Karam Hai Aaqa"was liked very much not only in Pakistan but all over the World as well. After recieting this Naat, Allah gave him so much respect and people started loving him. Then the process went on and he recited Naats not only in Pakistan but also almost in every Country wherever Muslims are living.
He possessed some unique distinctions that no one could ever have achieved in the history of Pakistan. He was the first Naat Khwan to receive first position in the very first Naat Khawani Contest organized on TV. He was the first Naat Khwan to recite Naats throughout the world USA, Japan, Switzerland, Yemen and France, etc.
He was honoured with the Nigar Award, a prominent Film Award of Pakistan, for his outstanding Naat reciting skills. He was the only Naat Khwan who was given employment due to his Naat Khwani skills at a leading bank.
Khurshid Ahmed died in 2007, leaving behind a son hassan bin kursheed. His funeral was attended by many prominent Pakistanis including media personalities.